So, this was my first attempt at making a freezer meal...and at making this large a quantity of food period! Here I am all ready to go and looking pregnant in my cute apron I got for Christmas from Kayley (photo courtesy of Ella). The recipes our group is using all coming from 30 Day Gourmet and are nice because they multiply out the ingredients for you based on the number of recipes you are making. I will post the ingredients for 1 recipe of this meal (6 servings), but keep in mind I was making EIGHT recipes worth at once!
I decided to prepare my meals on Sunday evening since Mike makes our family dinner that night and I wouldn't have to cook twice. We had all the ingredients ready to go (I did realize after taking this picture and luckily before starting that the sauce recipe made 10 servings per recipe, not 6, and I therefore had an extra gallon of milk...but it is still a lot of stuff). From start to finish it took me a little over 4 hours, but considering that will equal 8 different meals in the end, it's not too bad. The cost for my ingredients was $50 but I'm hoping it is one of the more expensive meals due to the number of ingredients required. We'll see next week when we get together to trade meals and share the costs.
Overall the meal was fine, not the best enchiladas I've had, but not bad either. Here are my tips for when you make them at home...
*If you use corn tortillas, tear them in pieces in the casserole dish, don't roll them. Mine dissolved because the sauce is so liquidy. And use 15 maybe instead of 12.
*Top with cheese. There is a lot of cheese in the filling, but I didn't feel like you could taste it all that much.
*I had extra filling and extra sauce, so you could make more than 12 enchiladas if you wanted.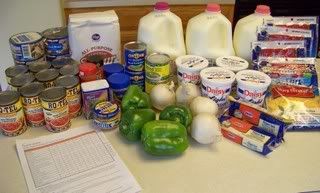 INGREDIENTS:
(1 recipe makes 6 servings)
- 1/2 c. diced onion
- 1/2 c. diced green pepper
- 1/2 t. minced garlic
- 2 c. chicken, cooked and cubed (after being at 3 different grocery stores and pricing their chicken I decided to go with my trusty canned Costco chicken. I used all 6 cans in 1 pack, which cost $10.99 and saved me a lot of work too)
- 3 c. fat free white sauce, divided (recipe below)
- 1 14 oz. can diced tomatoes, drained (I used Rotel b/c they were on sale)
- 1 4 oz. can diced green chilies, divided
- 1/2 t. chili powder
- 1/4 t. black pepper
- 1/4 t. crushed red pepper (I left this out b/c I knew the Rotel and pepper jack cheese would add a kick already and didn't know how sensitive the rest of our group was)
- 1 c. fat free mozzarella cheese (I used 2% cheddar b/c it was on sale)
- 1/2 c. pepper jack cheese
- 1 c. reduced fat sour cream
**On Hand:
12 6-inch corn tortillas** (which means I don't freeze that as part of my meal, but write in on the bags so people will know they need those when they go to defrost and make this one)
DIRECTIONS:
-Saute onion, pepper and garlic in some water and butter in large skillet 5 minutes, or until tender.
-Remove from heat, stir in chicken, 1/3 of the white sauce (1 c. per recipe), diced tomatoes, 1/2 of green chilies (2 oz per recipe), chili powder, black pepper, crushed red pepper and cheeses.
-In separate bowl, combine the remaining white sauce (2 c. per recipe), with remaining green chilies and the sour cream to make sour cream sauce.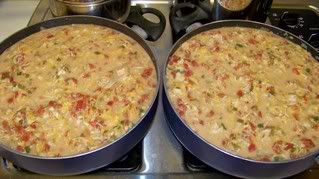 WHITE SAUCE INGREDIENTS:
(1 recipe makes 10 servings)
-3/4 c. flour
-6 c. skim milk
-2 T. chicken bouillon granules
Directions:
(I did it over the stove, but the directions are for the microwave)
-Warm up 2 c. milk for 60-90 seconds. Then stir the flour and broth flavoring into the warm milk.
-Microwave for about 60-90 seconds again until the mixture is bubbly.
-Add 2 c. of the milk for 2 minutes.
-Add 2 more c. milk for 2 minutes.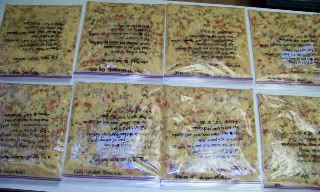 FREEZING DIRECTIONS:
**Before filling freezer bag, write serving directions on it for others. We decided to also write the person's name and the recipe title facing out on the edge, so when the meals are stacked in the freezer we can easily flip through and pick one out.**
-Place the chicken mixture in a gallon freezer bag or in a rigid freezer container.
-Place the sour cream sauce in a quart freezer bag. Seal, label and freeze.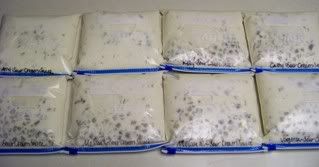 SERVING DIRECTIONS:
(what you write on bag)
**On hand: 12 corn tortillas
-Thaw in refrigerator or microwave.
-Coat a 9x13 pan with cooking spray.
-Divide the chicken mixture evenly between the tortillas.
-Roll them up and place in pan.
-Stir the sour cream sauce until thoroughly blended.
-Pour even over the enchiladas.
-Bake at 425 degrees for 20-25 minutes, until bubbly.
(I had a lot of extra sauce left, and again, would not suggest rolling the tortillas if you use corn.)