My sister
Kayley
posted this recipe and then brought it to a family dinner and it was AWESOME!!! I tend to get stuck in a salad rut, making the same thing over and over and this has been a great salad to throw in the mix.
Ingredients:
* Romanine lettuce (chopped) - 6 cups
* Tomatoes (chopped) - 3 cups
* Red onion (chopped) - 1 cup
* Cucumber (chopped) - 1/2 cup
* Green pepper (chopped) - 1/2 cup
* Feta cheese (crumbled) - 3 oz
* Olives - 16 to 20
* Olive oil - 3 tbsp
* Fresh dill (chopped) - 3 tbsp
* Fresh parsley (chopped) - 1/4 cup
* Lemon juice - 1 tbsp
* Garlic (minced) - 1 clove
* Oregano - 1/2 tsp
* Salt - 1/4 tsp
Directions:
1. Mix together the olive oil, lemon juice, oregano, parsley, dill, garlic, and salt.
2. Mix the lettuce, tomatoes, red onion, cucumber, green pepper well.
3. Add the dressing to the salad mix and top off with feta cheese and olives.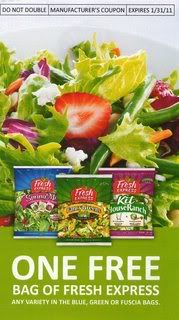 And on to the GIVEAWAY!!! (my first one!)

When I made the salad it was SUPER easy because I used a bag of Fresh Express romaine hearts...all cleaned and chopped up and ready to go!
Through
Food Buzz
and
Fresh Express
, I was given the opportunity to try out some of their new bagged salads. The good news is they are
awesome
(
the Asian salad kit has been my personal favorite)
and the
great
news is that they gave me coupons to share with you!
One lucky reader will win 5 coupons, each good for a FREE bag of Fresh Express!
To enter, follow my blog through Blogger or Networked Blogs
(Facebook)
and leave a comment here telling me how you are following me AND your favorite salad combo...do you prefer strawberries, feta and spinach or a classic caesar?
I'm always looking for new ways to spruce up my salad and can't wait to see your ideas!
One winner will be selected at random at 9pm CT Wednesday, October 27th.
Good luck :-)!