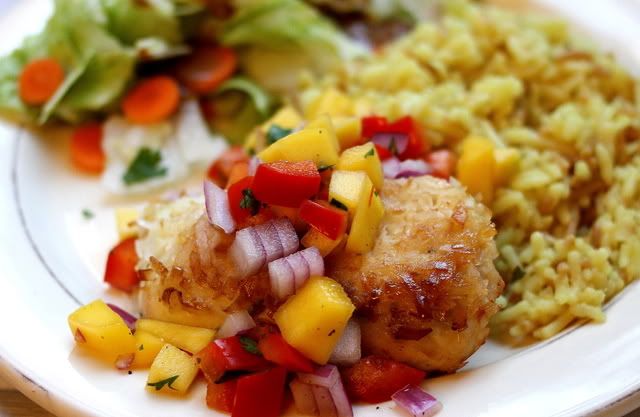 This was a recipe I had saved to try from an old issue of Rachael Ray's magazine. I loved the combination of flavors (and colors) and thought it was perfect served with some chicken rice. It was a great end of summer meal :-)!
Ingredients:
1/2 pound frozen mango, thawed and chopped (about 1 1/2 cups) (I used 1 large fresh mango)
1/2 cup chopped red bell pepper
1/3 cup chopped red onion
2 tablespoons chopped cilantro
1 tablespoon rice vinegar
Salt and pepper
1 egg
1/2 cup shredded unsweetened coconut
Four 6-ounce skinless, boneless chicken breasts
3 tablespoons vegetable oil
Directions:
Preheat oven to 350 degrees.
In a shallow bowl, beat the egg with 1 teaspoon water and 1/2 teaspoon salt. Place the coconut in another shallow bowl. Dip the chicken in the egg, then in the coconut. Press to coat.
In large, ovenproof skillet, heat the oil over medium-high heat. Add the chicken and cook, turning once, until golden, about 3 minutes. Transfer the skillet to the oven and bake until cooked through, about 12 minutes. Serve the chicken with the mango salsa.